Get Expert Nissan Brake Service at Harbor Nissan
You may not realize it while driving, but you use your brakes dozens of times even on the shortest drives. And while consistent brake performance can be taken for granted, your brakes will eventually require maintenance in order to continue working properly. Visit Harbor Nissan for your Nissan brake service and get the expertise and care you and your vehicle deserve.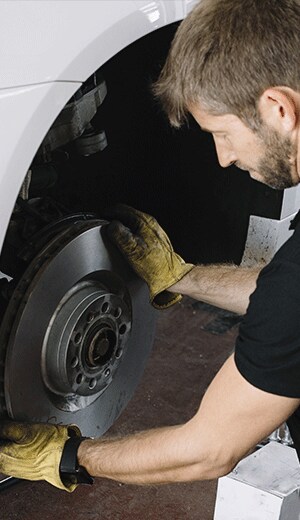 When Should I Service My Brakes?
Since your brakes are so critical to the safety of your vehicle, it is important to know what to be aware of when you think you may have a brake problem.
If your brakes are making a squeaking or grinding noise, that is a sign that you have worn brake pads that need changing as soon as possible. Squeaking brake pads indicate that your pads are nearly out of friction material. Meanwhile, grinding brakes mean that you are doing damage to your brake system and should be cared for immediately.
A soft brake pedal also indicates brake issues that demand immediate attention. If it takes more effort than normal to slow your vehicle down, or you are depressing the pedal much farther than normal, schedule your brake service as soon as possible.
What is a Brake Job?
All brake jobs start with an inspection of the brake system and a new set of brake pads. You may also need new brake rotors, especially if this isn't your first set of new brake pads. Extreme wear can cause damage to the calipers as well, and will be determined depending on their condition. Either way, every brake service ends with a fluid flush so you can enjoy consistent and  strong braking that keeps you safe.
Hours
Monday

9:00AM-7:00PM

Tuesday

9:00AM-7:00PM

Wednesday

9:00AM-7:00PM

Thursday

9:00AM-7:00PM

Friday

9:00AM-7:00PM

Saturday

9:00AM-6:00PM

Sunday

10:00AM-4:00PM