Don't Get Stranded. Take Advantage of Battery Services at Harbor Nissan
While maintaining your car battery may not be something you think about very often, having a battery go bad can result in endless frustration. Rather than get stuck with a dead battery, have your battery checked at Harbor Nissan to ensure it is in good working order.
When to Have My Battery Checked?
While there aren't often many major warning signs when your battery is about to fail, you can keep an eye on a few things to indicate that you may be in need of a new one.
The best at-home test is to turn on your headlights and then your air conditioning while the engine is running. If the headlights dim significantly when the air conditioning switches on, your battery is low on voltage and it's time for a replacement.
Another indication could be difficulty starting your vehicle. If you notice your Nissan taking longer than normal to crank, that is a sign of a weak battery and the next step is a vehicle that doesn't start without the help of jumper cables.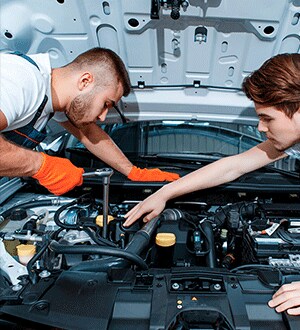 Battery Services at Harbor Nissan
If you believe you're having battery trouble, bring your vehicle to Harbor Nissan today! We'll test both your battery and alternator to make sure your electrical system is in good working order, and we'll determine whether or not a new battery is right for you. If you do end up needing a replacement battery, our genuine Nissan parts inventory likely will have one immediately available so we can get you back on the road with confidence.
Hours
Monday

9:00AM-7:00PM

Tuesday

9:00AM-7:00PM

Wednesday

9:00AM-7:00PM

Thursday

9:00AM-7:00PM

Friday

9:00AM-7:00PM

Saturday

9:00AM-6:00PM

Sunday

10:00AM-4:00PM